Joint Injections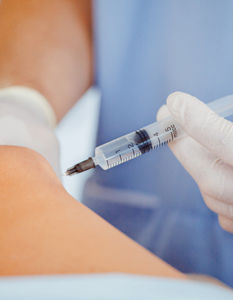 We understand that our joints become painful as we grow older. Sometimes, this condition called osteoarthritis happens earlier due to sports and trauma. The knee is one of the commonest joints to be afflicted. In our clinic, our doctors have painstakingly developed the art of knee injections with joint replacement gel so that our patients' pain is greatly minimised. This restores their functional activities and lead to a higher quality of life. The gel material used here is the original patented product from the USA. It is made from a natural substance that lubricates and cushions your joint, it can provide up to six months of knee pain relief (individual results may vary) with just one injection.
The doctors will assess your knee to see if you are suitable for such an injection and will take an X ray before this is done.
The patient can walk home after the procedure and will be taught exercises to strengthen the knee in order to lengthen the pain free period.